In this article, you're going to explore
PM Narendra Modi's new accession to Indian Railways.
List of all the working Vande Bharat expresses.
Initial 5 bidders: 26000 crore project on WIP.
Indian Established Companies: Tata Steel, BHEL, & Titagargh Wagons' Role in the Picture
Opportunities for West Bengal: 80 Vande Bharat Trains to Roll Out from the Uttarpara Plant!
PM Narendra Modi's new accession to Indian Railways
India, a land of diversity and wonder, has been brought together by the iron tracks of railways. And now is the correct time to merge such a 'reason of progression' with cutting-edge modern ideology. With that vision, Prime Minister Narendra Modi recently inaugurated Rajasthan's first and India's 4th edition (VB2M2) of the high-speed express, Vande Bharat, from Delhi Cant to Ajmer. With that being said, this will be the world's first semi-high-speed passenger train on high-rise overhead territory (OHE)
As we can see from history, India had already introduced its first high-speed express in the year 2019 on January 26th with the name "Train 18." Later, Railway Minister Piyush Goyal corrected the name to "Vande Bharat."
The RDSO-standardised Vande Bharat Express (Train 18) was manufactured by Chennai's popular manufacturing company ICF and had a speed of 180 km/h during its testing period. Later, considering the track capacity and crowd constraints, it was reduced to 130 km/h.
In today's blog, let us discuss what progression this news brings for the advancement of the future.
List of all the working Vande Bharat expresses running across India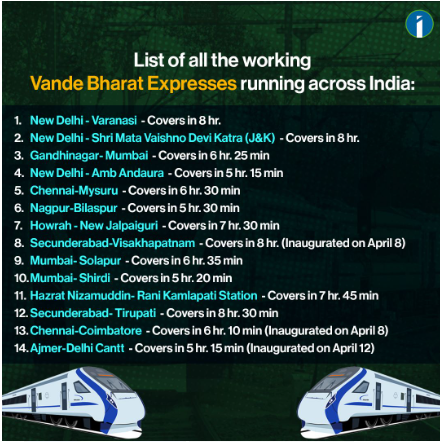 The Vande Bharat train promises to revolutionize India's rail infrastructure and connectivity. Its faster speeds and the reduced travel time will enhance mobility, making it more convenient and efficient for people to travel between different cities and regions. This improved connectivity will boost economic growth by facilitating trade, commerce, and tourism, driving development in both urban and rural areas, and fostering greater social integration.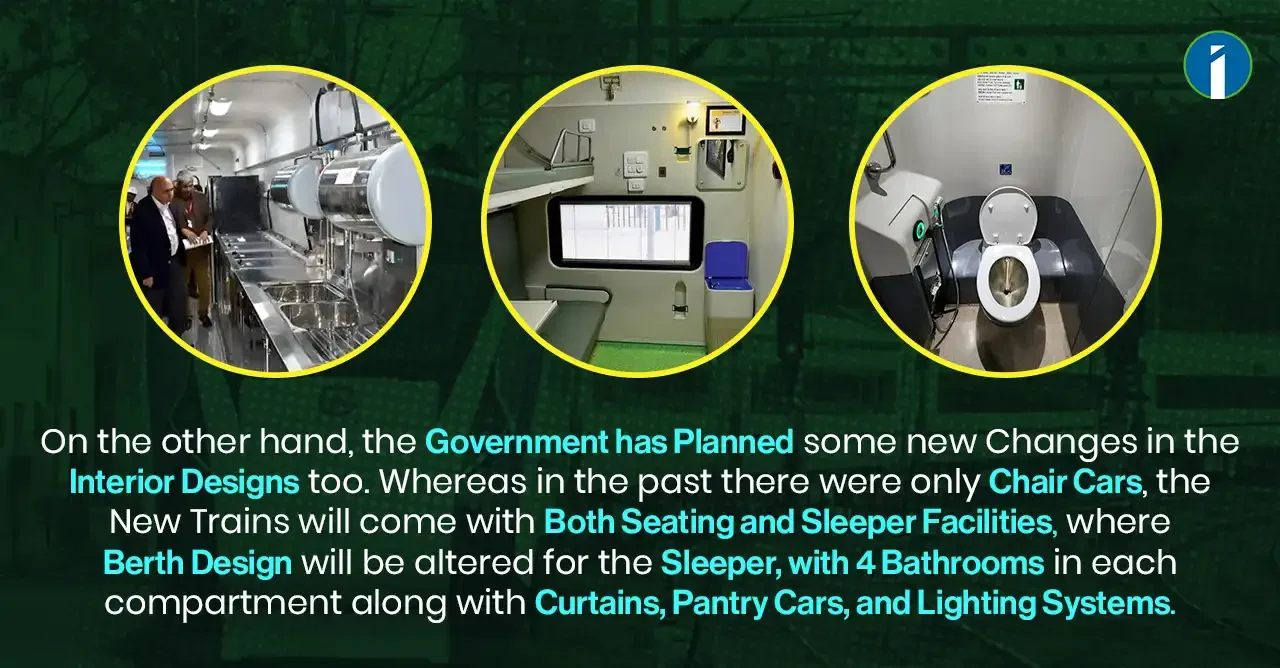 26000 crore & 200 trains manufacturing: The first five bidders
As per the source, last year around November and December, the news of the government's Next 200 Fast Speed and Fourth Generation Vande Bharat vindication vision started hitting the headlines.
With an estimated cost of Rs 26,000 crore for the project and 200 express manufacturing targets, the order quantity was decided as per the qualified bids of the companies.
The five main bidders for the project were Alstom Transport (French Railway), Medha Servo Drives Pvt. Ltd., Titagargh, Siemens Ltd., and Russia's CJSC Transmashholding.
While Alstom was the sole bidder on the project, the other four companies submitted their names by tying up with other companies, as follows: Swiss company Stadler Rail (with Medha), BHEL (with Titagargh), BEML (with Siemens), and Rail Vikas Nigam Ltd. (TMH-RVNL) (with Transmashholding).
The onboard manufacturing company will have to produce the first prototype of the next-generation train within 2 years.
After the extended bid submitting dates, the two lowest-bidding companies have been selected for manufacturing the upcoming 200 Expresses, where the company with the lowest amount proposed got 120 orders and the second-lowest bagged the rest of the quantity. The rollout date of the first prototype is to be expected on or before April 2024.
BHEL further informed that an additional order for Annual Maintenance Contract (AMC) has also been placed for 35 years. According to the conditions of the agreement, the company will supply 80 sleeper class Vande Bharat trains and undertake comprehensive maintenance of the same for 35 years.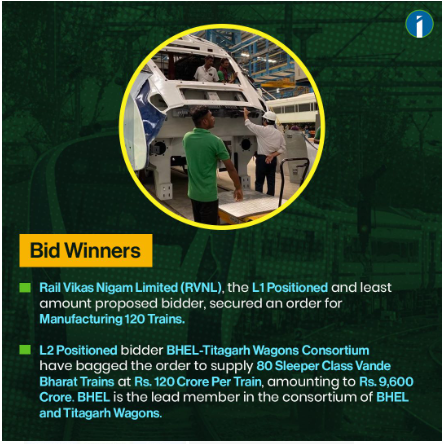 According to the Titagarh report, Indian Railways has outlined plans to expand the Vande Bharat train network and predicts a 2.5 times increase in passenger demand by 2051 as per the National Rail Plan.
Indian Established Companies: RVNL, Tata Steel, BHEL, & Titagargh Wagons' Role in the Picture
The Vande Bharat project, aimed at developing high-speed rail technology in India, has received significant contributions from several established Indian companies, such as Tata Steel, BHEL (Bharat Heavy Electricals Limited), and Titagarh Wagons Ltd. For being leaders and leaving a mark of excellence in their fields, these companies are being tapped to play crucial roles in various aspects of the Vande Bharat project, contributing to its success.
RAIL VIKAS NIGAM Ltd. (RVNL)
Rail Vikas Nigam engaged in the business of implementing various types of Rail infrastructure projects assigned by Ministry of Railway including doubling, gauge conversion, new lines, railway electrification, major bridges, workshops, Production Units and sharing of freight revenue with Railways as per the concession agreement entered into with Ministry of Railway.
At least 120 advanced Vande Bharat trains will be manufactured at RVNL's Marathwada Railway coach factory in Latur, and efforts are on to begin production by August," news agency PTI reported quoting Union minister Raosaheb Danve. The tendering process for coach manufacturing is in the final stages and the contract would be finalised soon, the report further said.
Last month, RVNL emerged as the lowest bidder for manufacturing cum maintenance of Vande Bharat trains along with Russia's Transmashholding (TMH) as a joint venture partner. TMH's company Metrowagonmash is based in Russia's Mytishchi. In addition, the miniratna PSU also emerged as the lowest bidder for – Mumbai Metro line 2B of MMRDA project worth Rs 378 crore.
This month, RVNL received a nod from North Western Railway for the provision of automatic block signalling on Madar-Sakhun Section (51.13 Kms) of the Jaipur division. The order size was Rs 63 crore.
Separately, RVNL has also incorporated a subsidiary company named Kinet Railway Solutions.
As per technical chart, the stock is trading above 50 & 200 EMA in Daily TF. The stock has given almost 100% returned in last two months.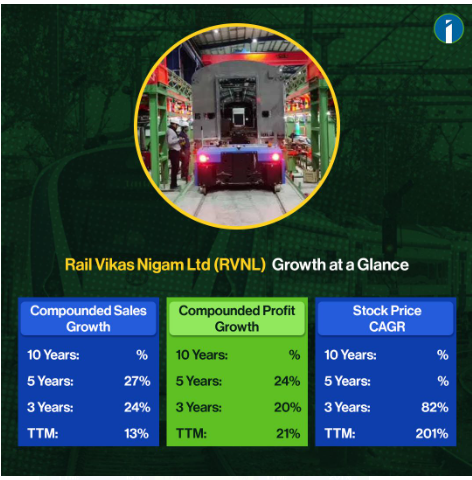 Tata Steel Ltd (TATASTEEL)
Tata Steel, one of India's leading steel producers, has been instrumental in providing high-quality steel for the manufacturing of the Vande Bharat train. The train's lightweight and aerodynamic design requires specialised steel that is strong yet lightweight, and Tata Steel's advanced steel products have been used in the manufacturing of critical components of the train, ensuring its durability and performance.
The company got a manufacturing contract for 22 trains with 16 coaches each.
They will mainly develop the parts of the trains, which include seats, panels, windows, and Linke Hofmann Busch (LHB) first AC to Three-tier coaches.
The company got around Rs 145 crore (per train) with a 12-month deadline.
Debasish Bhattacharya, the vice president of the company, showed gratitude and best wishes as their manufactured trains will come up with 180-degree rotational seats and aviation-like amenities for the first time in India.
As per technical chart, TATASTEEL is consolidating around its strong support zone of 102-110 level and trading around 50 & 200 EMA in Daily TF.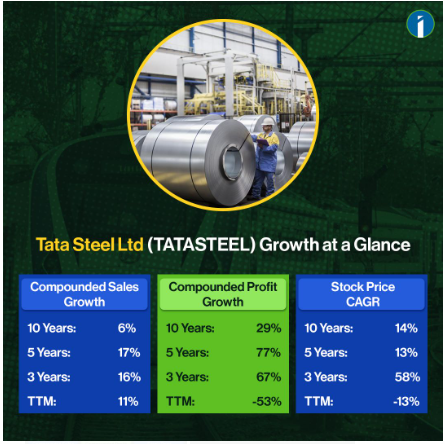 Bharat Heavy Electricals Ltd (BHEL)

 
BHEL, a renowned engineering and manufacturing company have contributed to the Vande Bharat project by manufacturing and supplying traction equipment and systems for the train. The traction systems are critical for the train's propulsion, and BHEL has leveraged its expertise in electrical engineering to develop and deliver advanced traction systems that meet the high-speed requirements of the Vande Bharat train.
Company will make a total of 80 trains within 72 months, consortium with Titagarh Wagons Ltd.
Consortium of BHEL & Titagarh Wagons will ensure the testing, maintenance, and other parameters for a period of 35
BHEL has confirmed the maximum speed of the trains will be 176 km/hour.
As per technical chart, the stock price of BHEL has taken support on 200 EMA & trying to take support on 50 EMA in Daily TF, also it has broken its downtrend channel in last week.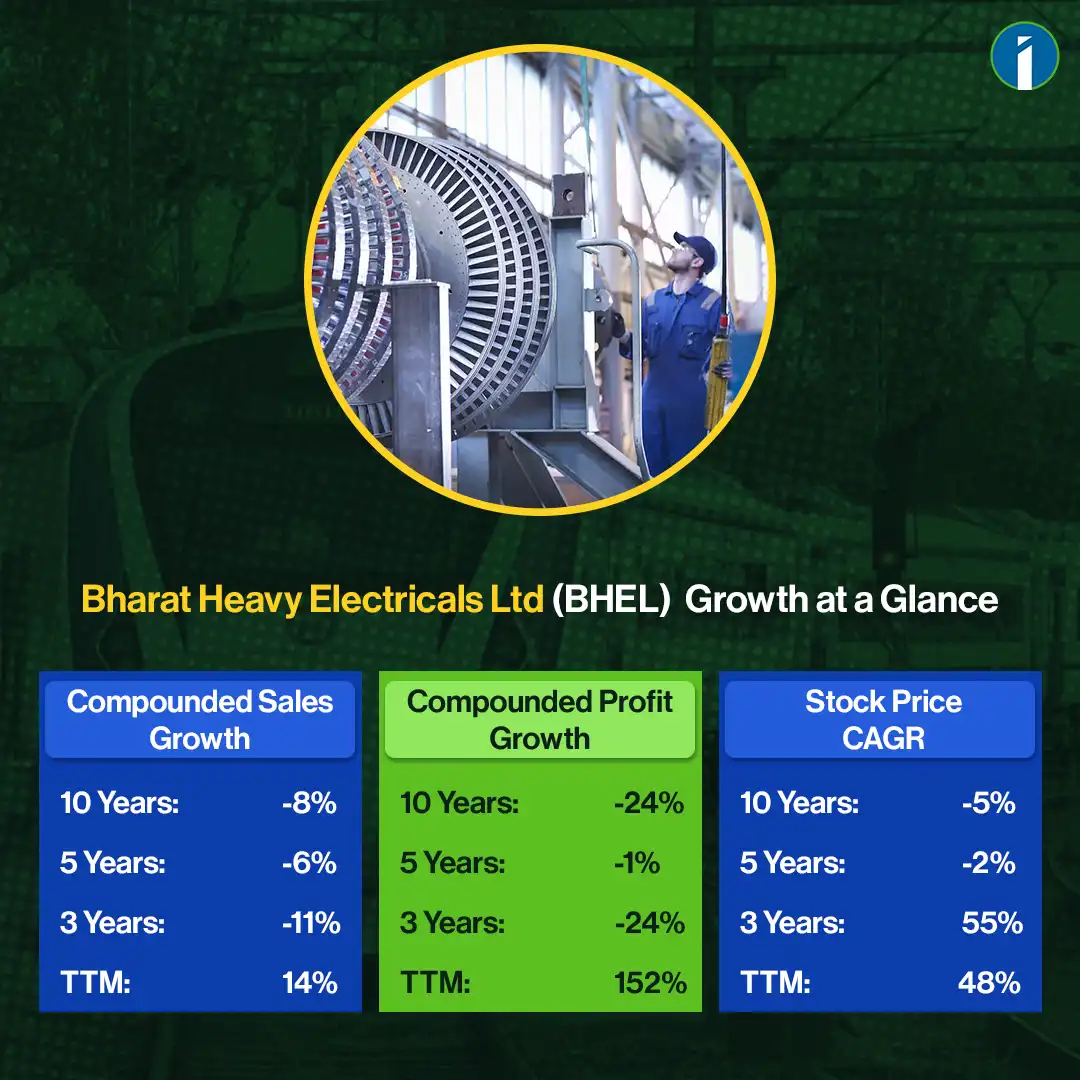 Titagarh Wagons (TWL)
Titagarh Wagons, a leading railway wagon manufacturer in India has utilized its expertise in the precision manufacturing of stainless steel shells, ensuring their safety and performance for Vande Bharat project.
Consortium of BHEL & TWL will make a total of 80 trains within 72 months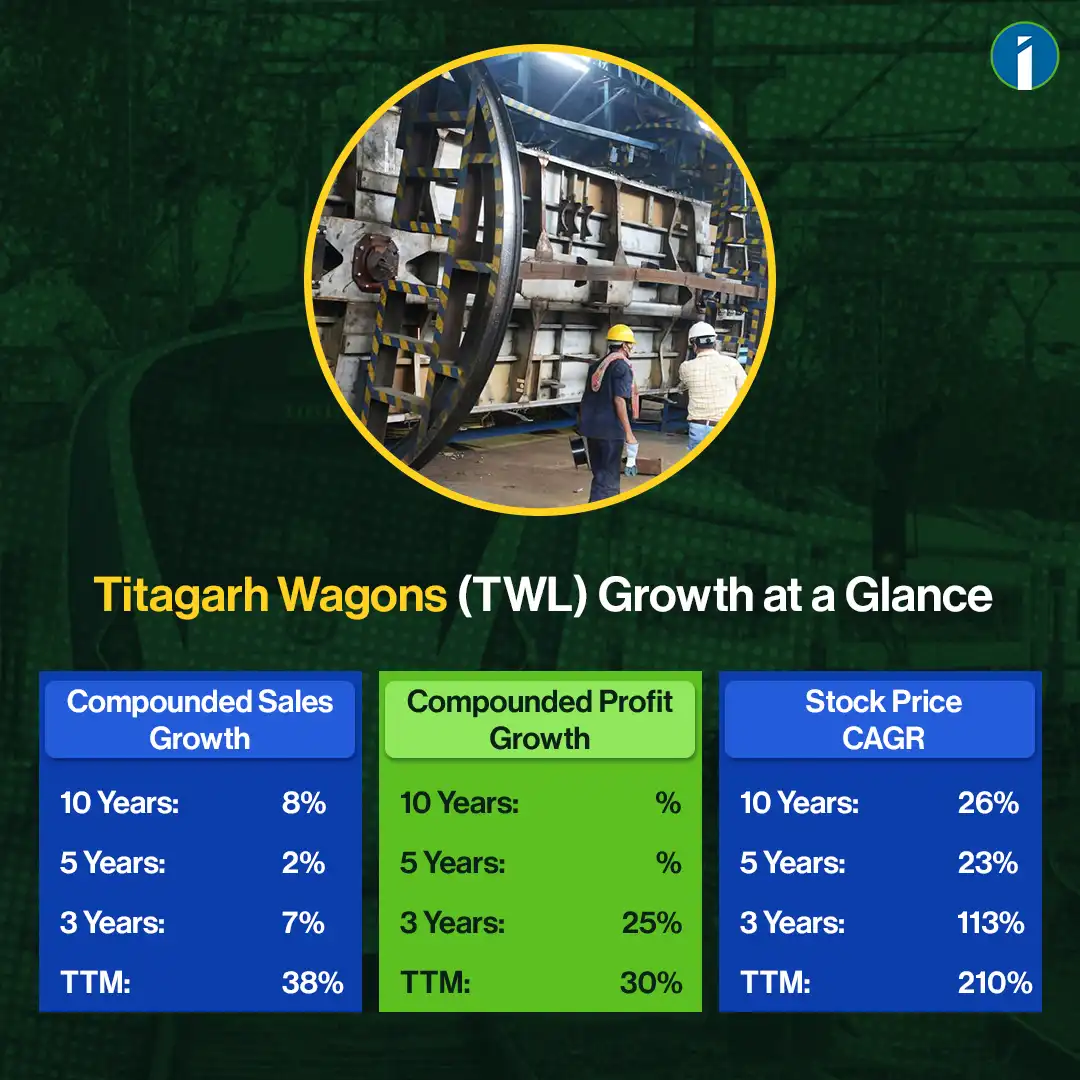 Shares of Titagarh Wagons Ltd. hit a record high after veteran investor Madhusudan Kela-backed Mahima Stocks Pvt. bought a stake in the company. Mahima Stocks holds 19.68 lakh shares in Titagarh Wagons, representing a 1.65% stake in the company.
As per technical, TWL is in an uptrend and trading around its all time high and above 50 & 200 EMA in Daily TF.
Opportunities for West Bengal: WB's Uttarpara plant to manufacture 80 Vande Bharat trains Plant over 6 years!
The major portions of the train components will be manufactured at the Uttarpara plant of of Titagarh Wagons Limited (TWL), about 15km from Kolkata, which will be renamed Titagarh Rail Systems.
Umesh Chowdhary, the vice-chairman and MD of TWL, said that the Uttarpara plant had the technological capability to build the 80 Vande Bharat trains. However, given the magnitude of the order, some capacity expansion would be necessary, and Rs 1,000 crore has been earmarked for this, of which Rs 350 crore has already been invested.
Here's how?
A milestone achievement: It reflects their commitment to excellence and their ability to compete at a national level.
Boosting the economy: This proximity is likely to create job opportunities for local residents and contribute to the economic growth of the region, stimulating the boost of ancillary industries, and overall economic development of West Bengal..
Technological advancement: The production of modernly designed Vande Bharat trains will bring significant transfer of advanced manufacturing techniques, promote research and development, and upgrade the state's industrial capabilities.
Enhanced global competitiveness: The consortium with BHEL also indicates a global collaboration and a step towards enhancing the global competitiveness of West Bengal, further establishing its position as a preferred investment destination.
As per the latest market news, West Bengal is set to get second Bande Bharat Express, the route might be from Howrah to Puri.
Conclusion
The introduction of more Vande Bharat trains in West Bengal is expected to improve the overall quality of rail travel, offering a faster and more comfortable mode of transportation for commuters, tourists, and business travellers alike..
Additionally, the success of the Vande Bharat project may boost investor sentiment in the overall transportation and infrastructure sectors in India, which could further benefit stocks like Tata Steel, BHEL, TWL, RVNL etc that are involved in such projects. However, while the stock market carries various risks depending on other vital factors, INVESMATE is suggesting you to take your investment decision mindfully.
Let Us know what do You Think of this Revolutionary Vande Bharat Project.
Is it the right time to invest in stocks like Tata Steel, BHEL, TWL, RVNL?
Write Us in the Comment Section Below 👇